Ansible Motion, the pioneering specialist in Driver-in-the-Loop (DIL) vehicle simulation technology, has been awarded The Queen's Award for Enterprise. The Norwich-based company is one of 205 to receive the award on the grounds of remarkable success in international trade.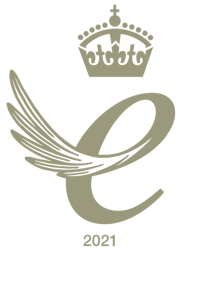 Now in its 55th year, The Queen's Award recognises British businesses who excel at international trade, innovation, sustainable development or promoting opportunity through social mobility. It is the highest official UK award for business.
Ansible Motion has been granted The Queen's Award after proving it had achieved outstanding growth in overseas earnings relative to its business size and sector, as well year-on-year growth in overseas sales in the last three years.
This award comes at the end of a successful six-month period for the Norwich-based company, which expanded its team in September 2020 due to the rise in demand for simulation technology during COVID across vehicle manufacturing and motorsport sectors.
Kia Cammaerts, founder and director of Ansible Motion said: "We're so honoured to have been awarded The Queen's Award for Enterprise. This success would not have been possible without our strong, skilled and ambitious team, who are always working to ensure we can develop the best possible simulation technology for the fast-evolving needs of a market that includes OEMS, Tier 1s, and motorsport constructors.
It has been an incredibly difficult year for business, but we are proud of the way we have risen to, and proved resilient against, the challenges of a changing world. This award is recognition of that, and all the hard work in the years proceeding it. It serves to further our ambition to continue developing the world's most advanced simulation technology for human-related aspects of vehicle dynamics and advanced assistive systems on the road to full autonomy."
About Ansible Motion
Ansible Motion was founded to create simulation tools that immerse real drivers in such a compelling way that they respond as if operating a real vehicle. Based in Hethel, Norfolk, it designs and builds a range of high fidelity DIL simulators suitable for all ground vehicles on the road and track. These are used by major companies around the world to develop vehicles and vehicle systems.
Ansible Motion believes the driver's emotional involvement is key for creating a high-quality simulation experience. It embeds detailed mathematical models of human anatomy such as the vestibular system into the software so that a driver will interact in a more realistic manner, ultimately delivering better feedback and data about how people and vehicles interact. Its latest simulator is helping car manufacturers to design better and safer vehicles through validating future driver assistance and autonomous technologies.
About the Queen's Award
Applications for Queen's Awards for Enterprise 2022 open on the 1st May 2021. For
more information, please visit https://www.gov.uk/queens-awards-for-enterprise.