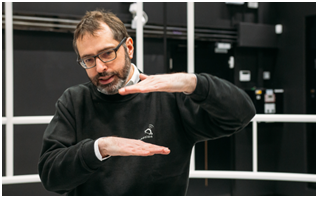 First off, thank you for visiting the Ansible Motion website and having a look at some of what we do. If you are here to gather information about state of the art driving simulator technologies, we hope you are finding this visit worth your time.
In 2009, we had a vision for what an automotive style driving simulator should look like, and how it should behave. Being automotive engineers ourselves, we put it to paper. We knew straight away that we had something unique, something that might serve as a useful tool for vehicle constructors. We now recognise that our vision formed the foundation of the world's first commercially available vehicle dynamics-capable driving simulator. Many years, and many global simulator deployments later, we find ourselves in the vanguard of human and hardware in the loop technologies.
One of our favourite quotes is "The best way to predict the future is to invent it." The same gentleman who is credited with that quote - Alan Kay, if you're interested – also said that "People who are really serious about software should make their own hardware." I would be hard-pressed to find any statements that are better aligned with how we go about our business here at Ansible Motion. So perhaps it's best to let the quotes stand, and simply offer, as a minor supplement, an explanation of our company name, in case you are not already familiar with the term ansible:
an·si·ble/ˈansəb(ə)lˈ/ noun A fictitious machine capable of instantaneous or superluminal communication.
Our broad ambition is to deliver to you an actual ansible in the form of a driving simulator. So if we have the good fortune to meet, you will likely see me just as I am pictured here, squeezing away at mass and time as I describe our latest offerings. Our team appreciates the opportunity to serve you and your team, and to provide solutions to assist you in your pursuit of excellence.