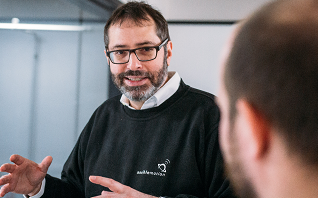 In 2009, we decided to take a fresh look at what ground vehicle driving simulators should be. When we put pen to paper something happened. By untethering ourselves from legacy approaches, we arrived upon new concepts and methodologies for connecting real people with virtual cars and scenes.
The realisation of our concepts, once executed in silicon and steel, became the world's first engineering-class driving simulator. Many years, and many simulator deployments later, we remain at the vanguard of human and hardware in-the-loop technologies.
As a minor supplement, I can explain our company name, in case you are not already familiar with the term 'ansible' :
an·si·ble/ˈansəb(ə)lˈ/ noun A fictitious machine capable of instantaneous or superluminal communication.
Taking inspiration from this concept, we aspire to deliver driving simulator solutions of the highest calibre. Thank you for your interest in Ansible Motion. We appreciate the opportunity to provide solutions to assist you in your pursuit of excellence.