Designed to validate the technologies needed to enable megatrends of electrification, autonomy and driver assistance, as well as HMI and vehicle dynamics, the production version of Ansible Motion's Delta series S3 DIL simulator is said to be its most sophisticated, high-performance, dynamic driving simulator to date.
It aims to satisfy a growing demand for high-fidelity, high dynamic, human-centric vehicle simulations in both road and motorsport applications.
Designed and manufactured in house in Norfolk, UK, the all-new SMS2 Stratiform motion system is at the heart of the Delta S3's dynamic capabilities, delivering what is said to be a refined physical experience. The scalable architecture also means it can be built and delivered in multiple sizes, making it suitable for a broad range of automotive product development use cases such as expert driver assessments, chassis dynamics, powertrain driveability, adas and active safety function calibration, V2X studies, and HMI design evaluations.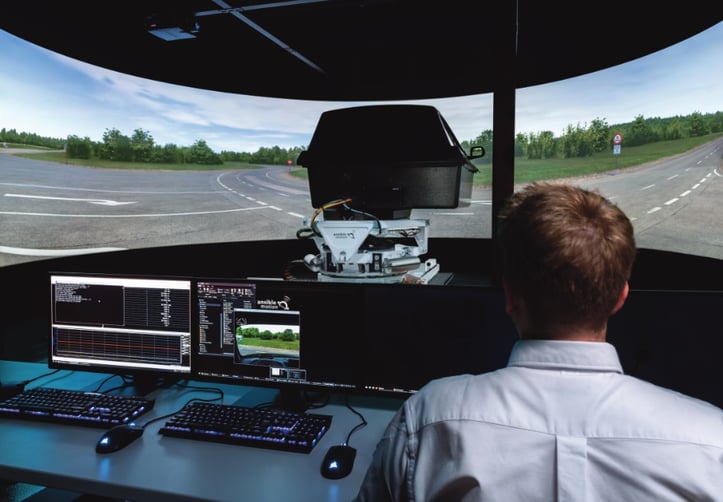 Drawing on feedback from a customer base that includes global OEMs and tier-one suppliers and more than a decade of simulator development in the field, the Delta S3 delivers accelerations beyond 1G, velocities above 5m/s and a claimed class-leading frequency response.
The simulator is capable of full 360˚ dynamic yaw rotations, and a set of engineered linear rails – scalable from four to ten metres in length – enables sustained, independent sway and surge motions for a more immersive and representative experiences for manoeuvres such as aggressive lane changing and autonomous parking, and anything in between.
Ansible Motion director, Kia Cammaerts, says:
Our new Delta series S3 addresses a requirement from both OEMs and tier ones for a highly capable and versatile driving simulator – a single virtual environment that delivers everything needed to convincingly engage real people with the automotive product development process, early and often, sometimes well before prototype vehicles exist.

We have always focused on achieving high-dynamic and high fidelity motion for all six degrees of freedom that define a vehicle's movement. The new Delta series S3 simulator expands on this in all areas, ensuring it's a dependable tool that meets the demands necessary to validate future automotive technologies.
With simulation now a key enabler for vehicle manufacturers to develop their ever-increasing range of new vehicle technologies and advancements, the Delta series S3 can be used as a single tool to support the varied requirements of OEMs around the globe.
Read the full article (see pages 13-16) at Vehicle Electronics Magazine