Autonomous Vehicle Technology World Expo 2017 is an international event covering all modes of automated personal transportation, from passenger cars, buses and coaches to trucks and industrial vehicles. Exhibitors and dedicated conferences will showcase, discuss, and debate all aspects of intelligent vehicles, including research, testing, validation, and development. The conference will be held in Stuttgart, Germany alongside Automotive Testing Expo 2017, the world's largest exhibition dedicated to new vehicle development and testing.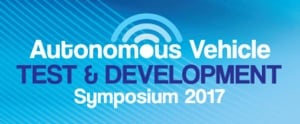 Phil Morse, Ansible Motion's Technical Liaison, will present recent advances in Driver-in-the-Loop (DIL) simulators and explore whether or not DIL simulators are useful for developing autonomous vehicles, in cases where human drivers/occupants are not responsible for vehicle control tasks. Results from actual DIL experiments in the autonomous vehicle domain are discussed, as well as the procedures by which experimental validity can be defined. Phil presents on Thursday 22 June in Room B at 11:45 am.
Learn more about the Autonomous Vehicle Test & Development Symposium.