Designed to meet demand from chassis and safety engineers, compact simulators are now offering opportunities across multiple departments of OEMs to successfully solve market challenges in a more immersive environment.
With advances in simulation technology moving on in leaps and bounds over the last ten years, there is an overriding theme emerging of the rise of autonomy and the capability to validate AI and machine learning and ensuring driving simulators are capable of testing multiple scenarios efficiently, repeatably, and perhaps most importantly, safely.
With more automotive engineering departments relying on simulation, Driver-in-the-Loop (DiL) technology will undoubtedly grow in stature, allowing even more access for more people and vehicle constructors. No longer are they the exclusive preserve of high dynamics and OEM engineering departments. User Experience, Driver Assistance, Human-Machine-Interface (HMI), and legal departments and more are now trusting results gleaned from the virtual world. Having achieved the core fidelity needed to provide convincing human interaction experience and valid data, driving simulators have already come of age, backed by a long-life expectancy.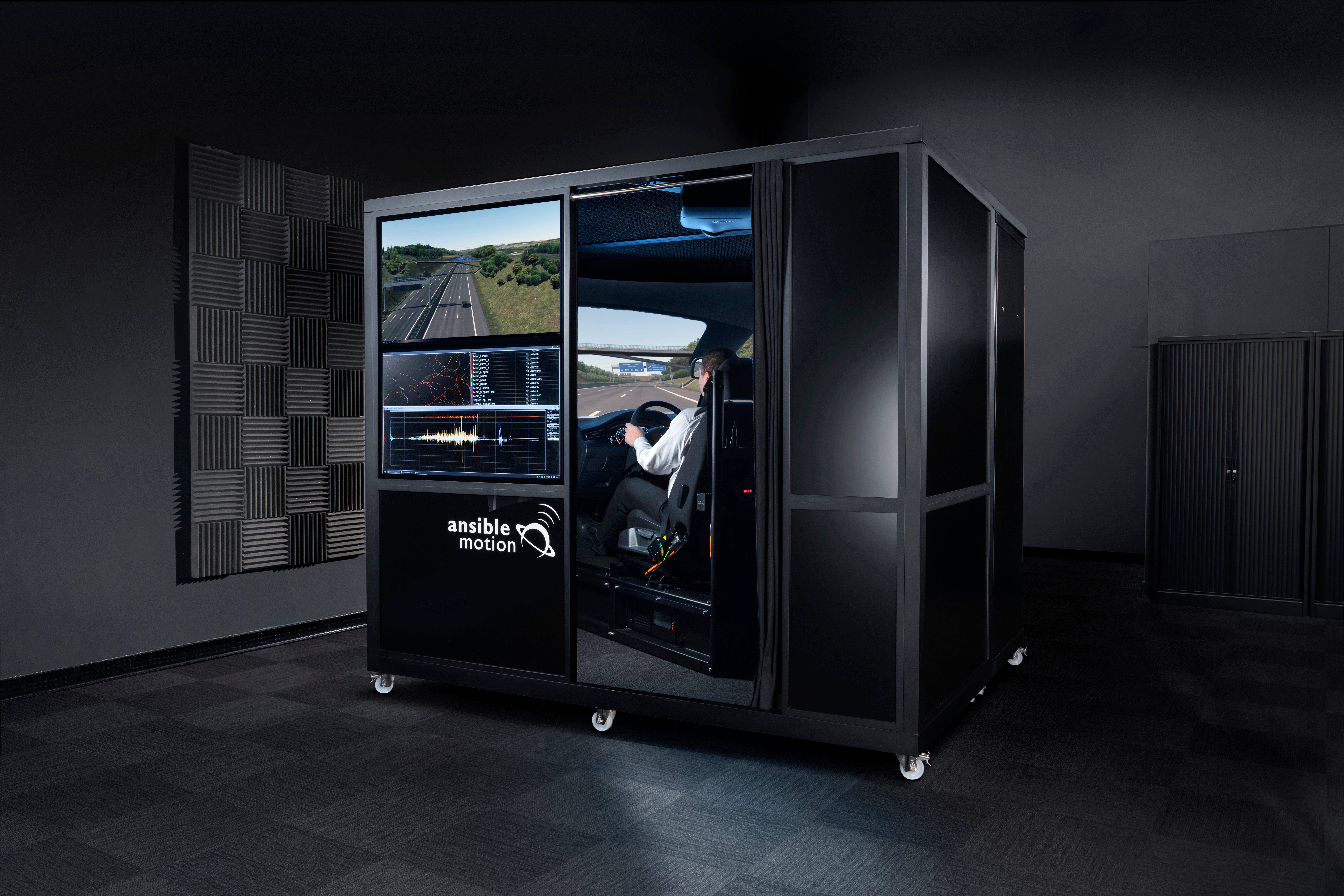 Ansible Motion Theta-C Dil Simulator.
In fact, due to such megatrends in autonomy, electrification, connectivity, and driver assistance, portable driving simulators for vehicle development applications are providing the ideal solution to those who are restricted by space or cost, thanks to their compact footprint and sophisticated computational architecture.
As vehicle complexity continues to increase, more pressure is placed on development timescales and resources, creating a burgeoning need for companies and departments to now gain access to human-in-the-loop simulation technologies to validate hardware and software solutions. Where simple desktop solutions don't provide the fidelity necessary, compact simulators can offer a fundamental building block for connecting real people with automotive simulations, anywhere in the world, through optimised complexity, quality, and time-to-deploy. It is just a matter of wheeling it in, plugging in and starting work, enabling it to be operated stand-alone, or it can be connected with external Software-in-the-Loop (SiL) and Hardware-in-the-Loop (HiL) systems.
With portable simulators incorporating features such as complex traffic and actor scripting, together with sensor integration, they are fast becoming ideal for validating scenarios for advanced driver assistance systems (ADAS), active safety and autonomy. Add to this integrated form and internal sound isolation, and it is easy to see why they are becoming used more and more in standard office spaces.
Read the full article on the Eureka website.