Driving simulators have always attempted to connect real people with imaginary vehicles. The fundamental principle is not new; however, the technology used to make this happen is a moving target.
Since the 1990s, driving simulators have taken on many forms — from small-scale gaming/entertainment systems to the large-scale systems used by vehicle manufacturers for their product research and development (R&D) activities. The variation in driving simulator designs has mostly come about owing to the variety of use cases and the adoption of emerging technologies.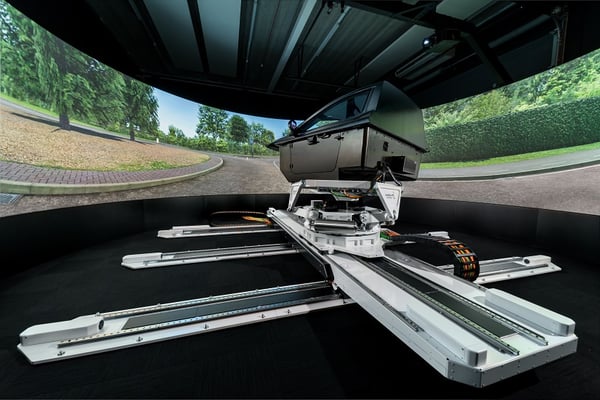 For example, the objective of some simulators is simply to provide display monitor graphics from the driver's seat perspective to allow visual participation in a simulation, while others aim to engage all the senses with various motion systems, projection graphics and sophisticated audio immersion. While simulation has been an element of vehicle engineering for decades, Driver-in-the-Loop (DIL) simulators seek to advance the technology. To learn more, we spoke to Kia Cammaerts, founder of Ansible Motion.
According to Cammaerts:
"Use cases for simulators grow day by day. As more engineers become exposed to the ability and capability of today's simulation tools, they naturally find more use cases. Ansible Motion's prime objective is to connect real people with virtual vehicles and environments, wherever they want in the world. We want engineers to experience convincing, realistic virtual test drives. We have found that customers have no trouble identifying interesting use cases for DIL simulators — some of which we have never even imagined. DIL simulators are uniquely positioned to engage real people, real drivers and evaluators, with pre-prototype vehicles and onboard systems — and that is the value proposition. It is a powerful way to sort out development issues, often before any metal is cut, which may otherwise be missed."
Read the full story on the AutoTechInsight website.