Autonomous driving is a key talking point within the industry, but as many struggle to master the challenge of its evolution from current ADAS, could Driver-in-the-loop simulations be the way forward?
The goal of highly automated and ultimately autonomous driving is a key part of the future ambitions for the automotive industry. On the road to that goal, manufacturers around the world aim to test and fit more advanced driving assistance systems (ADAS) into their vehicles.
However, due to the unpredictable nature of driving scenarios due to unforeseen circumstances such as pedestrians, cyclists, roadworks, and animals, this is a serious challenge.
Founded in 2009 Ansible Motion creates and deploys technology associated with the physical and logical simulation of human directed vehicles. The company offer a range of automotive Driver-in-the-loop (DIL) simulators used by drivers and product development engineers.
At present, the company is utilising the DIL technology to provide a robust and repeatable simulation method to evaluate the growing number of scenarios which may present themselves to autonomous vehicles.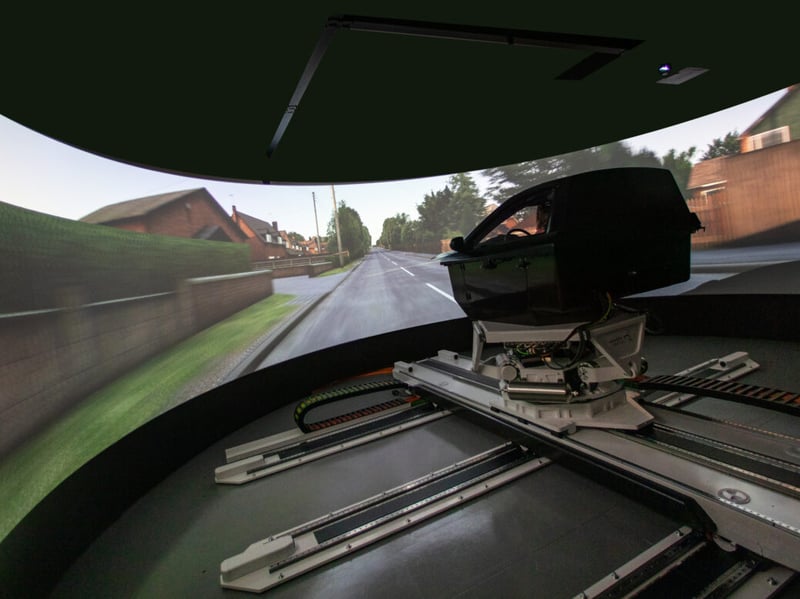 We spoke to Ian Haigh, sales team lead, commercial group, Ansible Motion to find out more.
Just Auto: Could you explain DIL simulators and how they work?
Ian Haigh:
Fundamentally, our aim is to connect real people with virtual vehicles and world-spaces. That means we're bringing people into contact with what would otherwise be computer simulations of cars, and providing 'virtual test driving' experiences inside a lab environment instead of out on a physical proving ground or out on real public roads.

Making this happen, providing convincing, realistic virtual test drives is really our specialty. We take care of all the heavy lifting that makes this possible behind the scenes. That way, our customers don't have to worry about it – they can just climb aboard and get on with the task at hand, which is developing their cars.

If we lift the curtain on DIL simulations, the first things we'll see are a number of software and hardware systems working together in real time, like an orchestra. Real time execution and synchronicity is a must because a real person is always 'in the loop,' always participating and interacting.

...
Just Auto: How can this technology assist with the development of autonomous vehicles?
Ian Haigh:
Driver-in-the-Loop remains a powerful and useful product development tool, even for Level 5 autonomy – where the driver actually becomes an occupant. Even when the task of driving is removed, you still have a human being interacting with a vehicle and deciding whether or not they are having a good experience, so any tool like DIL simulation that offers a sneak preview of this interaction will be useful in developing the vehicle.

...
Read the full article on the JustAuto website.