Getting back to engineering fundamentals with Driver-in-the-Loop simulation
Just suppose for a second that Frank Whittle had never been able to tinker with his earliest ideas about the turbojet engine. Or that Tim Berners-Lee had run out of time before developing what went on to become the World Wide Web.
History is surely littered with great inventions that never happened. Of course, we'll never know what they were, but it's fair to assume there have been thousands of them. Imagine all the bright ideas that might have been, were it not for time pressures, budgetary limits, technological constraints or logistical issues.
Right now, there are few sectors more turbulent than the automotive industry. The full-scale charge towards electrification (no pun intended) has forced manufacturers to re-evaluate almost every area of the automobile. From the vehicle dynamics impact of heavier powertrains and low-slung battery masses, through to the UI/UX challenges of helping the drivers manage their energy usage, almost every aspect of modern vehicle design changes in some way with an EV.
And that's by no means the only challenge facing the automotive industry at the moment. Increasingly sophisticated ADAS, self-driving functions, greater demands for in-car connectivity and the move towards new business models, such as subscription services and shared mobility, are all vying for design resources too. Plus, the pressure is always on to shorten development cycles and reduce costs.
Although all this disruption has the potential to prompt innovation, it can also stifle it. With the stakes being so high, is it really worth gambling on the development of a novel solution when a well-proven one will do? What is the value proposition of introducing new technologies in the context of maintaining and elevating brand identity? These are the difficult questions facing automotive manufacturers worldwide.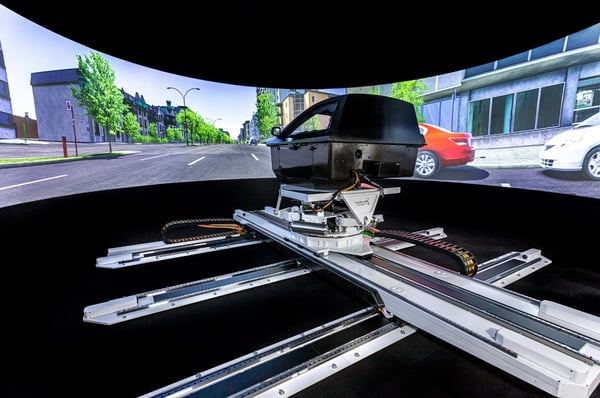 Fortunately, cutting edge research and simulation technologies such as Driver-in-the-loop (DIL) simulation allow vehicle development engineers to shift the odds dramatically in their favour. With DIL simulation, for instance, a virtual prototype for proof of concept investigations can be put together in a matter of days at minimal cost, whereas a physical prototype can take six months and more than half a million pounds to build. Multiply that out across an entire prototype fleet, and it becomes easy to see why management might think twice before signing off a high-risk programme unless it can be supported by appropriately advanced tools and techniques.
DIL simulation largely removes the risks associated with 'what if?' questions, while simultaneously expanding the sandbox. . . . It provides the freedom to pose questions, months ahead of any physical builds or testing. It also provides an ongoing benefit with total freedom to vary test conditions combined with laboratory-calibre repeatability. . . .
But the benefits of placing a human in the loop go way beyond subjective assessment. When we are in a car, we are experiencing an on-going feedback loop with the vehicle; for example, each vehicle control input – say, a steering, throttle or brake correction – is a carefully calculated response from our brain, based on dozens of different vehicle stimuli combined together and interpreted by senses. Without those uniquely human interpretations and responses, it's impossible to get truly representative inputs for, say, a test bench or an off-line vehicle simulation model. Fundamentally, the human is a vital part of the equation, even when it's a matter of collecting purely objective, numerical data. . . .
Read the full article on Futuresparity.com