The development of simulation to become an all-encompassing development tool has been gradual - but Ansible Motion has been ahead of the curve from the start. Autosport headed to Hethel to find out just what that means.
In these times of great uncertainty in motorsport, efficiency is king. The swathe of race cancellations means teams don't have the chance to test new parts on track every other weekend, so all the work to prove new design concepts and test reliability of components will instead be done virtually, through simulation.
But we're not talking about the standard home simulators that drivers may be using to stay sharp while waiting for their next turn in the real thing. Simulators capable of making accurate vehicle-dynamics calculations in real time are precious commodities and, as the Alfa Romeo Formula 1 team has acknowledged by embarking upon a major simulator upgrade at its Hinwil base, imperative for any high-performance automotive or motorsport firm aspiring to be successful in the 2020s.
This is an irreversible trend, from which there can be no turning back. That much is obvious to anybody who has spent more than five minutes in conversation with Kia Cammaerts, who founded his own advanced simulation company, Ansible Motion, in 2009.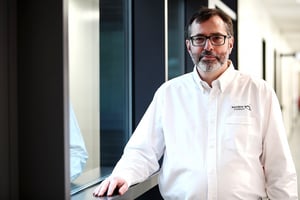 Cammaerts (pictured here) began dabbling in simulation while working as the head of aerodynamics at Team Lotus - appropriately, Ansible Motion is located in Hethel on Colin Chapman Way - and admits he's more surprised by how long it has taken for its capabilities to be properly used than by how it has become a core development tool across multiple sectors.
"For a young engineer starting now, simulation is part of the landscape, it's baked in, so there's a wide variety of components that you can buy straight off the shelf," says Cammaerts, who has turned down approaches to produce simulators for tanks, helicopters and even tugboats to avoid diluting Ansible Motion's focus on high-performance ground vehicles.
"Whether hardware or software, you can glue them together to make a basic simulator or do offline simulation purely on computers with quite high fidelity."
Cammaerts - who started his motorsport career working under Ron Tauranac at Ralt, then moved to Tiga on its Group C2 sportscars and onto March's Alfa Romeo Indycar project before gaining F1 experience at Lotus and Larrousse - says he had to "understand the complete picture to tune the aero design appropriately", and began developing simulation tools himself to model suspension, chassis and engine performance that all fed into his aero work.
Read the full article on the Autosport Magazine website